Line 22 trains are the same as the previously opened Line 18 trains. They are all D-type cars on the city express line with a speed of 160 kilometers per hour. Each train is composed of 8 cars, but the appearance design is different. Line 18 adopts "Bay Area Blue", while Line 22 adopts "Vibrant Orange", echoing the regional positioning and future development of the line.
Features of Line 22 Trains
Streamlined "flying wing" shape, carbon fiber hood, integrated outer windshield, using the main color of "amber gold", with a vibrant orange belt.
Grey stainless steel seats, composite floor, innovative introduction of healthy lighting system, light color temperature is divided into three gears that change with the season, the vehicle is more energy-saving and environmentally friendly.
The fully sealed equipment compartment can effectively isolate external noise. The speed can reach 160km/h, and the passenger capacity is large. It can realize quick start-stop, quick ride and landing, and bring a comfortable experience in fast operation.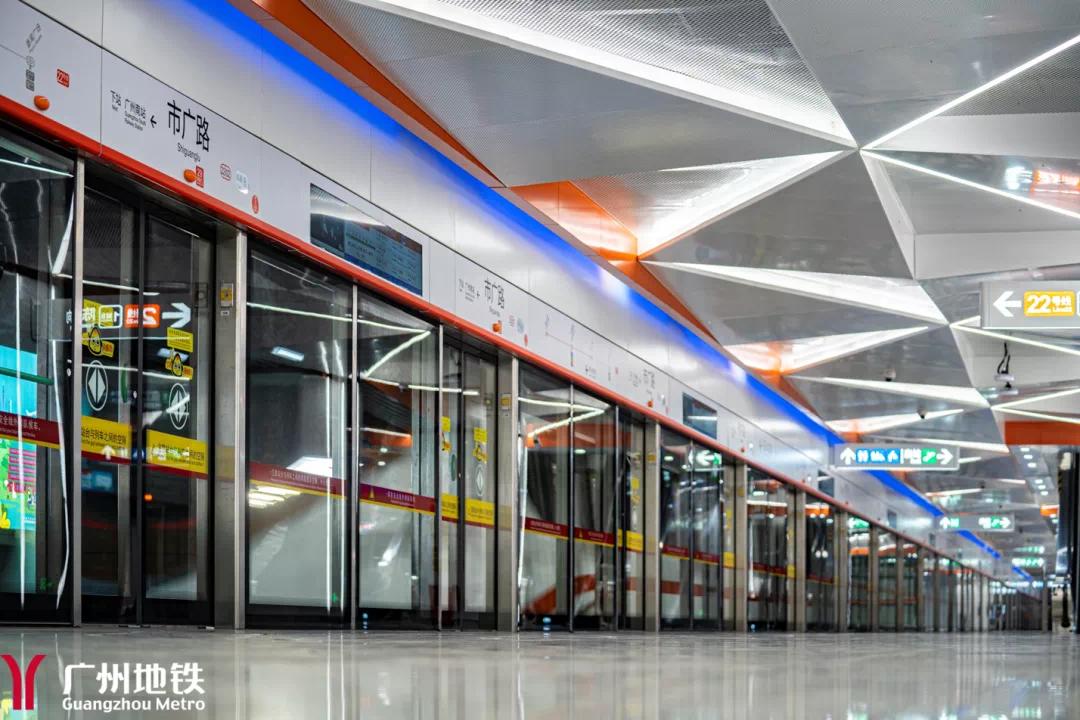 The opening of the first section of Guangzhou Line 22 marks that the total operating mileage of Guangzhou Metro has exceeded 600 kilometers, reaching 607.6 kilometers, and the number of stations has increased to 294.
The first section of Guangzhou Line 22 is 18.2 kilometers long. It starts from Chentougang in the west and ends at Panyu Square in the east. It passes through Guangzhou South Railway Station, Shiguang Road Station and Panyu Square Station. The one-way journey takes about 14 minutes. Among them, Guangzhou South Railway Station (transfer to Line 2, Line 7, Foshan Metro Line 2) and Panyu Square Station (transfer to Line 3, Line 18) are transfer stations.